Softball Earned Fame in Title Game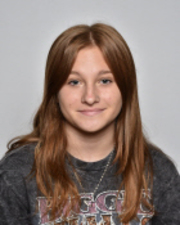 SOFTBALL EARNED FAME IN TITLE GAME
Last night at the University of Arizona, the stands were packed with rabid softball fans to see the State Championship game. Even though Tucson is two hours away, Demon Nation was present in full-force to root on the team that has brought so much pride to Greenway. Chants supporting our girls echoed throughout the softball park all night long. Early on it was evident that this was going to be a close, hard-fought battle. Undefeated Salpointe, who has won the last four State Championships, brought their undefeated record into the game, but they had no idea who they were up against. Greenway star Kaitlyn Terry did not allow a single earned the entire night. Both of the Lancer runs were scored on errors. Despite the three errors, the Demons played magnificently in the field. Center fielder Kaitlyn Bennett had two impressive catches to lead a solid Demon offense. There was even a scary moment when right fielder Kaila Hooper ran full speed into a wall in her efforts to catch a foul ball. Play was stopped for five minutes as trainers and coaches rushed out to the field, but, like a true Demon, Kaila shook it off and stayed in the ballgame.
Did Kaitlyn Terry get a hit? No, because they intentionally walked her all three times she came to the plate. Noises of chicken calls could be heard throughout the ballpark.
How many of their players did Kaitlyn intentionally walk? Zero. And as previously stated, she didn't give up a single earned run.
How close did we come to scoring? Very close. We had runners on third twice, but couldn't quite make it home. Bella Morris and Ariel Chandler had huge hits and it looked like both would score, but the Salpointe defense was solid. The final score was 2 to zero. After the game, the massive 2023 State Runners Up trophy was presented to the team in front of a cheering Greenway crowd. This year's team will go down as one of the best. It was a very special year that brought so much excitement and pride to our campus. Congratulations Softball!! Thank you Coach Frandrup and the entire team on a truly amazing season.
Your second seeded softball team has officially gone to State! However, this raises one major question: what did they do to get there?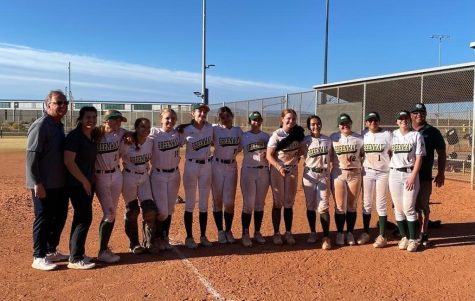 Our Demons started off the State playoffs with a bang. It was a hot 11am start between Bradshaw Mountain and Greenway, and the Demons turned up the heat early. On May 2nd, hundreds of softball fans packed into Greenway's new softball park for a much anticipated State playoff game between the Coconino Panthers and your Greenway Demons. The Demons cruised to a 6 to 2 victory as Sophomore Taylor "Birdie" Borup led the team with two hits while Kaitlyn Terry and Katie Bennett each scored twice. Ariel Chandler and CC Upshaw also touched home. The big win advanced the Demons to the semi-finals on Saturday where they faced a familiar opponent in Paradise Honors.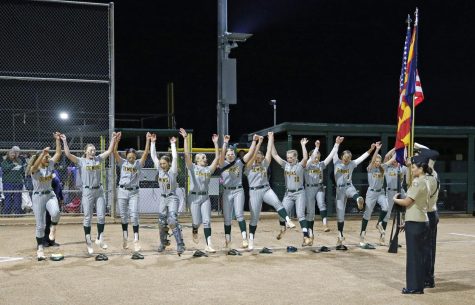 "I learned that you need to always practice on things you aren't good at or not the best at, keep practicing on the mistakes" Senior Kaitlyn Terry said.
"The biggest need for the team right now is being all in and executing on offense. Kaitlyn Terry will take care of us on the mound, but we need to produce runs to secure each win," Coach Frandrup said.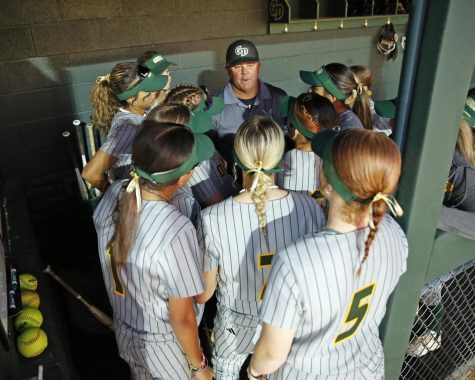 It's really hard to beat a team three times in a season, but that's exactly what Coach Frandrup and her softball army did at Papago Fields. Some of the things the team practiced on are tracking the ball better and communication. We are human and mistakes will be made, but learning from those mistake is the key to success.
"During a game, I will be positive in most situations, but if an error is made that the athlete could have controlled then I will discuss with the athlete that played needs to be made and to move on," Coach Frandrup said.
"I like being on varsity rather than JV because of the environment and the coaching staff," Senior Kaitlyn Terry said.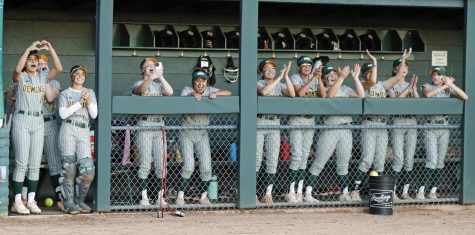 We have a really strong knit team this year. The girls are so fun to be around, they work hard, and thrive to be successful.
"I am very positive and never going to run my athletes down or take them off the field after one mistake. I coach not only to win, but to teach my athletes how to manage difficult situations and learn from their mistakes," Coach Frandrup said.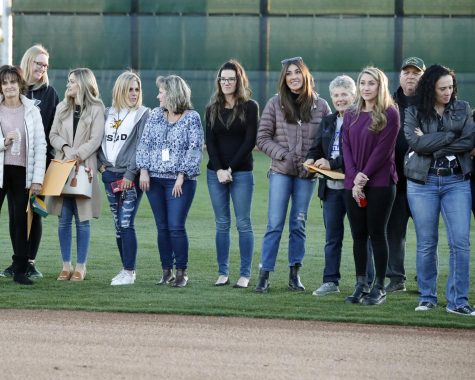 On March 14th, over 400 spectators packed the area behind Greenway's newly renovated Softball park. There was a ribbon cutting, and then the top 50 Greenway softball players were introduced as 50 years of Demon softball were celebrated.  Former players who played as far back as 45 years ago came home to reunite with old friends and remember the glory days.
During this, Arizona player of the year, Senior, Kaitlyn Terry didn't allow a run, and our girls scored more runs than a freshman has birthdays. We were hitting, fielding, and winning together as a team. What made it extra special is that all of those former softball greats got to watch the Demons roast the Cobras like a southern mother roasts a big side of beef. Greenway took down Cactus by a score of 15 to zero, showing what a strong group of girls they were this season.