JV Soccer Earned Their Lockers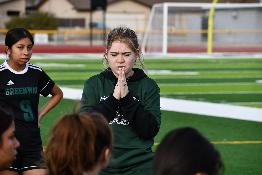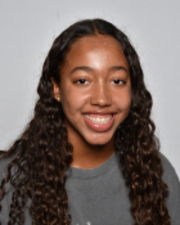 Even though Greenway's JV girls soccer team did not win every game they played, they kept fighting and gave every game all they had, leading to an exceptional season.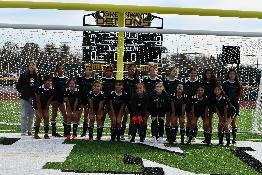 "Even in our toughest games, I see a fire in this team," Coach Atwater said. No matter the win to lose record, these girls played hard every chance they got, and made their coach proud.
"I think we worked hard and had some really talented people on the team," Freshman Valeria Garnica said.
"I think this season was a pretty good season, the team definitely needs to work on a lot of stuff but overall it was a major learning experience for the new team," Freshman Jocelyn Lopez said.
JV captain, Sophomore Sophia Riley, said that her and her teammates had a really strong bond.
"We were all connected and loved each other so much. Although we only won one game, we had so much fun playing together, going to away games together, and just enjoying each other's company. So I definitely owe my season to those girlies," Sophomore Sophia Riley said. This goes to show how these ladies are great team players and how they created such a tight bond over a short period of time.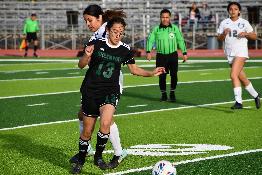 Coach Atwater would like to give a special shout out to number 13, Sophomore Brianna Colorado. Colorado is a wing-midfielder and is JV's leading scorer.
"Her desire to improve is relentless and I have seen so much growth from her this season," Coach Atwater said.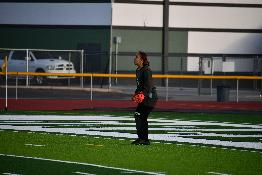 Coach Atwater would also like to give a special shout out to Freshman Emma Sauerbrei. Sauerbrei is JV's goalkeeper, and even in the games where they got peppered with what felt like hundreds of shots and goals, Coach Atwater said that she kept her head held high and her attitude positive.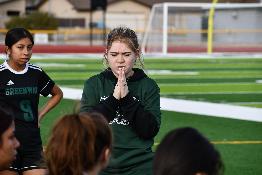 Coach Atwater has always had a dream of coaching soccer, and now she is fulfilling that long life goal of hers. She has been playing soccer ever since she could walk, and even though she was not insanely talented, she understood the game better than a lot of the other girls she knew.
"I love this game because it challenges you in every way: physically, emotionally, mentally,"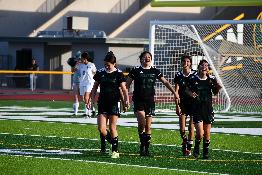 "My favorite thing about Coach Atwater was her drive to push us as a team" Freshman Jocelyn Lopez said. She also says that she loves Coach Atwater's sarcastic sense of humor and the way that she made soccer fun for her. "She made me love playing soccer, and she made me feel good about the way I played," Lopez said.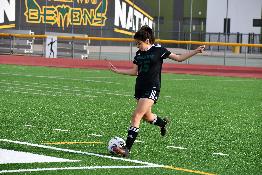 Although our Demons didn't win every game they played, they had an extremely fun season. One of the team's favorite experience was Senior night. The girls did a secret Santa gift exchange to commemorate their teammates.
"All the girls were so sweet and excited to get [their] gifts" Freshman Jocelyn Lopez said. On top of this, they got to cheer on their Senior teammates as they played one of their last soccer games for high school. Freshman Valeria Garnica says that one of her favorite moments was the night that they took down Shadow Mountain.
Overall, our girls had a great season and the fact that they can all look past their win to lose ratio says a lot. These ladies created an amazing bond that will last a lifetime. Stick around for next year to see these girls dominate the field!