Special Night Put Football in the Spotlight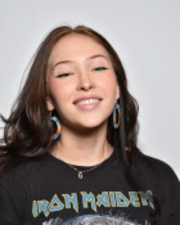 SPECIAL NIGHT PUT FOOTBALL IN THE SPOTLIGHT
Calm warm winds blow throughout the stadium at six o'clock on a Friday evening. From the bleachers, light clouds cover the bright setting sunlight and create a pink glow over Greenway. For now, there is light chatter. Ticketers calmly grant admission, and vendors begin popping kettle corn. The field is mostly bare. 
By seven, the stadium has turned to chaos. 
The warm breeze has vanished. In the student section, it reaches a mighty 91 degrees after the sun goes down. The bleachers rumble with the stomping of student feet. Sweat beats down from the student section, as they scream and cheer for Demon Football, packed in like sardines. The NFL Monday Night Football theme begins to play. The sounds get louder and the cheers grow stronger. This is it.
Greenway Football is back home. 
And it's not just any home opener. On September 23rd, the school unveiled the brand new football field to celebrate five decades of Greenway football. To welcome this new facelift, Greenway invited 50 of the school's best football players over the course of half a century. Among these are current Cincinnati Bengals offensive line coach Frank Pollack, former Carolina Panthers fullback Richie Brockel, and former San Francisco 49ers defensive back Mike Salmon. Needless to say, the Greenway stadium is packed with nostalgia.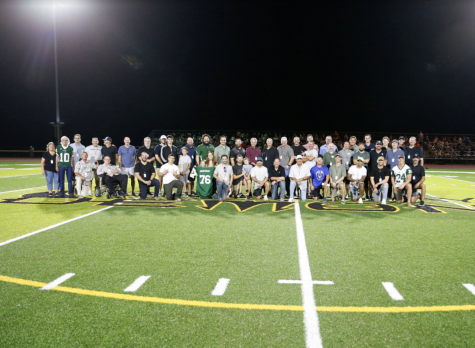 Athletic director, Mr. Feldman, worked hard to ensure that tonight's dedication was special. Feldman has worked at Greenway for 20 years and has seen the ups and downs of Demon football firsthand. His fondest memory? Back to back regional championships in 2018 and 2019.
"A very proud moment," Feldman said as he describes the victory. "Our program was on a down swing for some years and these years really set Greenway Football back on the map where it has stayed."
Feldman is absolutely correct. When the Demons took the 4A Skyline Regional title in 2018, it had been their first since 2003, 15 years earlier. Feldman thinks the success of Demon Football after their back-to-back championships will be longstanding.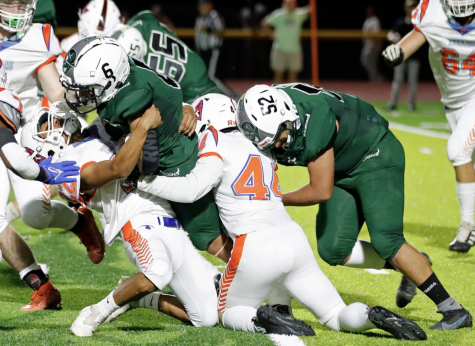 "I see it continuing to be successful," he said. "I would hope that this reputation would never change."
This "reputation" that Feldman mentions is a direct attribution to the alumni that stand on the field on Friday night. For 50 years, they have created the Demon image that dominated the 4A Skyline Region. And as Greenway Football looks to the future, it seems that they're in quite good hands with head coach Ed Cook.
Mike Salmon, class of 1989 alumni and former NFL defensive back, adds his observations in a brief interview after the ceremony.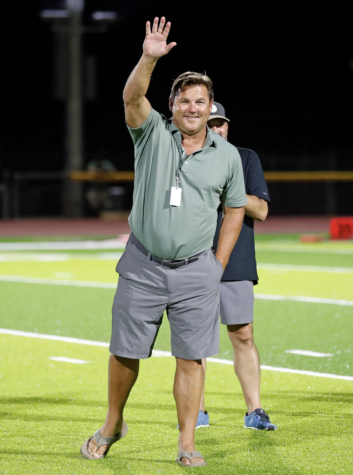 Salmon continues talking about his experience with Greenway Football, and the similarities between his experience in the 80's, and his observations on the field Friday Night.
"When I got to college, I felt like I was better prepared than a lot of the guys I played against," Salmon said, describing how Greenway Football helped him to the pros. "I thought I was getting college-level coaching at a humble high school level."
He's talking about Gregg Parrish, who coached Demon Ball from 1983 to 1992. According to Mike Salmon, their style of disciplined coaching gave him a significant advantage over his college opponents and equipped him for the NFL, and for the rest of his life. He's seeing that same discipline in the 2022 team, too. And the numbers say the same.
They look like they're clamping down," Salmon said in response to a Greenway touchdown. "They're starting to play with some more emotion, and I'm excited to see what's gonna happen. They're looking strong right now," he said.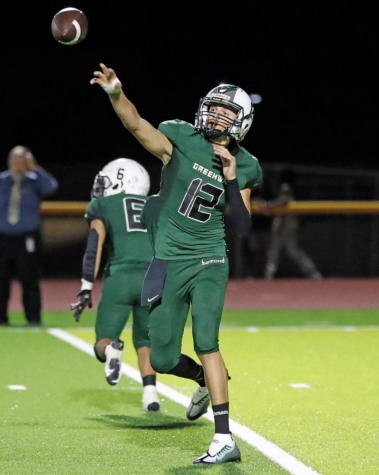 The Demons fought hard through the second half after securing a close score in the first and second quarters. In the third quarter, an incredible screen pass to wide receiver Junior Devari Wade put Greenway in position to take the lead after he rushed for an additional 50 yards and scored a touchdown. Quarterback Sophomore Tyler McNally had a statistically wonderful game, with a 56% completion rate, two touchdowns, and a total of 288 passing yards.
Outside linebacker Andy Botic terrorized the Titans' offense, with a total 4.5 tackles, and an interception for a touchdown in the second quarter. On the same note, Senior Joseph Rueda Martinez had 3 tackles on the night – two for a loss, and a quarterback sack.
Unfortunately, they fell short to the Thunderbird Titans by a score of 58-27.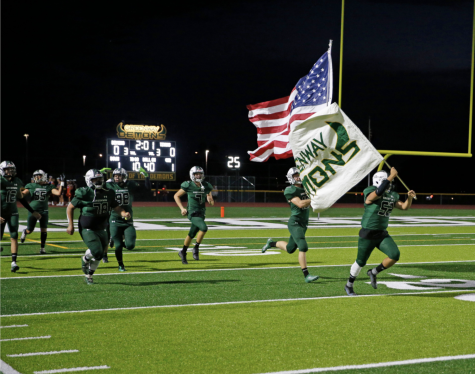 Against the Titans, Greenway was consistently driving down the field and establishing a solid passing game. While the rushing game may need improvements with a total of 78 yards, it's clear that the Demon offense is making the necessary adjustments to win. And that's the Demon Spirit that creates unforgettable alumni like those present on Friday night.