Covid Harassed Kids in Gym Class

COVID HARASSED KIDS IN GYM CLASS
The new school year has been worrisome, especially with covid causing new habits and different states of mind. All of these play a huge role in students recent involvement in the new return, focusing towards  gym periods. Physical activity showed to be a struggle to many during this past year. Gyms closed for an extended period and once re-opened, most people didn't return. Getting used to a modified way of living set not only students but the whole world out of wack.
Battling the virus set society onto a different track, now approaching day to day life with a different eye. According to The University of San Francisco, there was an effective drop in physical activity among students attending the campus, resulting in nearly a 30% decrease in daily steps within 30 days of collecting.
Given the circumstances, it may be possible this has effected students involvement, enthusiasm, and sportsmanship in their gym periods. However, gym coach Ms. Swartz, said that her students "are demonstrating each of these daily". Although this news is great to hear, absences are still high. Ms. Swartz encourages students to complete one of the "two options of how to make up missing absences and locate and complete any missing assignments". This information is posted by the PE department in their Google Classroom for students to refer to.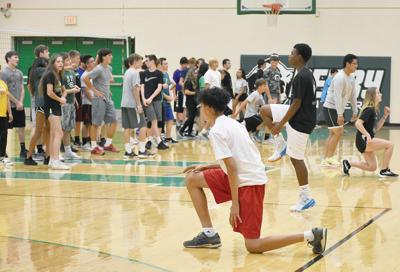 Unfortunately, students aren't properly fueling their bodies in order to participate in class activities. They are struggling to hydrate and nourish their bodies. Students often come to class only having consumed "very limited amounts of water" and "choosing not to eat any breakfast and or lunch".
It's obvious that their bodies will not perform or respond well to their unhealthy habits. Not staying properly nourished affects our students harder due to the Arizona heat. Sky rocketing temperatures and "unexpected high humidity" are causing students to not feel well once their body is in motion. Their bodies are not properly equipped to perform and participate safely in class. "Your body is like a car, and a car needs fuel in it, to be productive and get places. Your body is the same!  When you don't put fuel in it, the body is not going to respond to the demands it is asked to produce," Ms. Swartz said.
It is highly encouraged for students to come prepared and ready to participate for their own advantage, ossibly packing a lunch or some snacks  if you don't enjoy the free breakfast and lunch offered daily in the cafeteria. Even bringing your own water bottle from home is a way to help improve this issue. Having a water source available to you throughout the day is an effective way to develop habits to keep you hydrated.
If students begin to practice better habits or even return to how they use to go about their days before the global pandemic, worries in gym class will decrease. It's important to take advantage of the materials provided to you and use them for the better.